FTC 2018 Qualifying Tournaments Information
Note:  This information is for FIRST TECH Challenge (FTC) teams in North Texas.  FIRST LEGO League teams should get qualifier information from the Perot Museum FLL website .
Event preregistration has closed.  We are now allowing teams to waitlist for any event spots that become available.
2018 Qualifying Tournaments
Qualifier Event Waitlist
If you would like to get additional events for your team (or if your team hasn't received any events yet), you can fill out the form at http://roboplex.org/ftc/waitlist to request to be added to waitlists for remaining events.
As the season progresses, we will periodically re-evaluate team cancellations, changes in registration status, and event capacities to see if additional competition spots are available for teams.  Any available competition spots will generally be given to teams according to the following priority:
Teams without any events
League teams wanting a "second chance" qualifier
Teams having only one event
Teams having two events
All other teams
Within each priority group, any available spots will be allocated by lottery.
In general, teams getting an event invitation from the waitlist will need to either accept the invitation quickly (usually within a 2-3 days) or we will pass the invitation on to the next team.  We will make our best effort to notify teams as soon as possible that an event spot has opened up, but sometimes spots open up at the "last minute" and so you may receive an invitation to an event on short notice.  If you get a event invitation from the waitlist and end up declining it, your team will still be considered for available spots at other events.
Current published registration stats: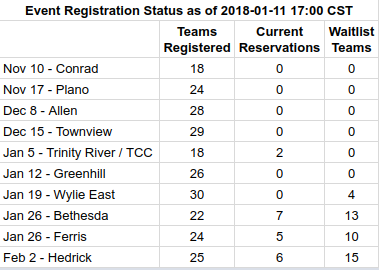 Qualifier Event Pre-registration and Registration
Pre-registration for North Texas FTC Qualifying Tournaments will open on September 28 at 11:00am CDT.  When pre-registration opens, teams will be able to fill out an online form to indicate their preferences for qualifier events in the season.  Completing the form does not register a team for any events, it simply establishes a team's priority claim for available event slots.  No payment for event fees is needed for pre-registration, and events will be generally assigned to teams based on the order of form responses and availability of preferred event slots.
Even though teams are not required to pay event registration fees to pre-register, teams must pay their $275 national registration fee with FIRST (via the firstinspires.org Dashboard) before they will be assigned an event.  The national registration cost is separate from tournament entry fees; for 2018-2019 we expect qualifier tournament fees to again be $175 per team per event. (Teams that have received a Texas Workforce Commission grant from FIRST in Texas will be assumed to have paid their national fees, even if the funding hasn't officially been sent yet.)
January/February Qualifiers:  In order to provide all teams with an opportunity to compete in a January or February event, pre-registration will give each team a reservation for ONE qualifier taking place after January 1st based on their preferences.  In December we will then open up waitlists and registrations for any events with unclaimed registration spots.
November/December Qualifiers:  Teams that wish to compete at a November or December event can also use the pre-registration form to indicate their preferences.  Teams have the option to choose a second Nov/Dec event instead of a Jan/Feb one.
As event assignments are made the team contacts will receive "reservation tickets" for their assigned events; the reservation tickets will contain instructions about completing registration and payment options for the events.  Unclaimed reservations will expire a few weeks prior to the event date and the spots released to other teams on waitlists or that request additional events.
Teams intending to compete in a league (Waco or El Dorado) should contact the League Coordinator for registration details, or email Patrick Michaud at patrick.michaud@utdallas.edu.
For more information about qualifier registration, contact patrick.michaud@utdallas.edu .