UTD Coaches Clinic — Chassis Building and Attachments
2015-10-10 @ 1:00pm

-

4:00pm
Event Navigation
On October 10 from 1p-4p the UT-Dallas Science and Engineering Education Center (UTD/SEEC) will be hosting a clinic on FLL chassis building and attachments. Map and parking details are given below.
Seating for this event is very limited, so we're restricting attendance to a maximum of three persons per team (coaches and/or team members). If you can get by with just one or two attendees, that will help leave space for other teams to attend. Latecomers to the event may have difficulty getting a seat.
The clinic will start with an overview of the LEGO building pieces most commonly used for building FLL robots, and then present the design principles important to developing a good chassis and efficient Robot Game execution. The clinic will then demonstrate a wide variety of attachment types and mounting options.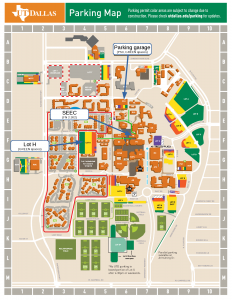 The clinic will be held in the SEEC laboratory, room FN 2.302 in the Founders North building on the UTD campus (see map). Attendees may park in any GREEN space on campus; we recommend parking in Lot H or Parking Structure 3 (PS3). The only handicap accessible path to Founders North is along Drive E and Drive D.
Lot H: The easiest access to Lot H is via Waterview Pkwy on the west side of campus, then turn east onto Drive L. Once parked in Lot H, follow the sidewalk just north of the Arts and Humanities building, cross Rutford Ave, and continue past the SLC building until you reach the wooden ramp leading to Founders North.
PS3: We recommend taking Synergy Park Blvd on the north side of campus, then turn south onto Rutford Ave and east onto Loop Rd to enter PS3. After parking in PS3, follow the sidewalks south to Drive D and the Founders North building north entrance.
For further information regarding this clinic, contact Patrick Michaud at pmichaud@pobox.com .